OVER 8,000 BUTTONS !!!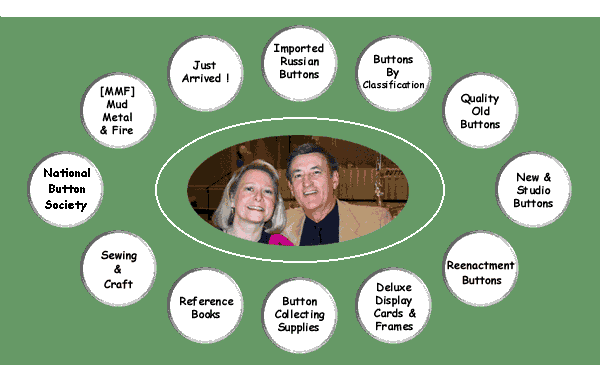 Check Out The Buckeye State Button Society Website - www.ohiobuttons.org
We Guarantee Total Satisfaction !!!
Members Of The National Button Society For Over 37 Years
And NBS Lifetime member.

Members Of Many State Button Ssocieties


In Business For 25 Years !!!

C & B Weiser
7189 Brantford Road
Dayton, OH 45414-2352
Phone & Fax: (937) 890-9987

Email: buttons@cbweiser.com

| | MMF - Mud, Metal & Fire Buttons |
| Buttons By Classification | Quality Old Buttons | Antique Buttons | New & Studio Buttons |
| Our Studio Artists | Modern Moon Glows | Reference Books |
| Awls, Mounting Wires, Button Measures, Simichrome Polish DROP OVER MEASURE by C & B Weiser,
polishing cloth, mounting boards of 2 kinds plain, colored , hand drawn, Deluxe Display cards, G-S Hypo Cement,
Polishing Pads which also test for bakelite, Vinyl envelopes and also black backed clear front envelopes
and Many More Supplies for the Discriminating Button Collector |


We Prefer Checks But Also Accept Credit Cards And PayPal!
© Copyright 2023 C &B Weiser
All Rights Reserved.